Ivory Coasters
Mungaka MakossaARC205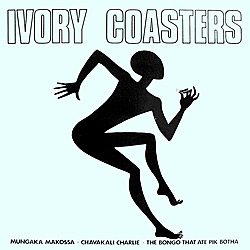 Featured Track

Chavakali Charlie
This text will be replaced by the flash music player.
Mungaka Makossa
Chavakali Charlie
The Bongo That Ate Pik Botha
Dave Draper - Guitar
Musi Musawa - Vocals, Guitar
Martin Robinson - Bass
Martin McManus - Percussion
Dave Kennard - Drums
Stuart Boardman - Saxes
Jon Corbett - Trumpets
George Howden - Trombone
Producer - Ian Little
Recorded at the Lodge and Mixed at Gallery
A Politone Production for Recreational Records
Originally released in 1982 via Recreational Records
Disclaimer: We have made every attempt to find the original owners of these wonderful recordings. If a member of the band or anyone else reads this and can supply us with any information it would be greatly appreciated.
Mastered by Steve Street Oct 2010