The Harpoons
Tunnel Child / Cindy StormARC075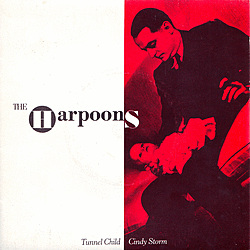 Featured Track

The Harpoons
Tunnel Child
This text will be replaced by the flash music player.
Tunnel Child
Cindy Storm
Biography
Formed out of the ashes of Fishponds-based goofy garage band 'Groovy Pineapple' with the departure of their drummer to art school in 1983, the Harpoons (with Pete Stillman on lead guitar, Steve Yabsley on rhythm guitar, Geoff Gorton on bass, Jon Brokenbrow on drums, and Dominic Fitzpatrick on vocals for the single, later replaced by Scott Jarrold after joining Shrewd) were a regular feature on Bristol's pub rock and club circuit in the early 1980's, playing frequently at the Western Star Domino Club, the Granary, the Bristol Bridge Inn and the Thekla as well as at other less typical venues, including a memorable gig at Glenside Psychiatric Hospital!
A session for Janice Long's Radio 1 show recorded at the Abbey Road studios in 1983 led to a growing fan base, with the band's double A-side single 'Cindy Storm / Tunnel Child' produced by Steve Street receiving extensive air play on late night national radio. A tour was arranged, with the band playing at such far-flung venues (for a Bristol band) as Dingwalls in London, and Southampton University. Their exuberant, guitar-driven sound with psychedelic touches, with many of their lyrics penned by Steve Yabsley, the popular BBC Radio Bristol presenter, continued on after the departure of drummer Jon Brokenbrow when the band reformed as Rorschach (with Michele Schillace on drums, who would later play for Portishead), and later as Santa Cruz, who signed to MCA and produced one album before disbanding in the late 1990s.