God Bless You
EstheticsARC175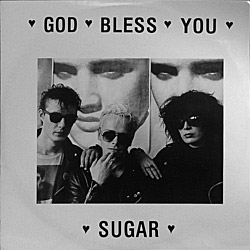 Sugar
Magic and Mystery
Featured Track

Sugar
This text will be replaced by the flash music player.
Line Up:
Dave Ryan Vocals
Rita Lynch Vocals
Simon Black Keyboards
Recorded at S.A.M Studios 1987
Produced by God Bless You
Photos by Chris Rydlewski and Gerald
All Tracks by God Bless You
God Bless Liz
Published by Cubic
Originally Released on Mirror Records
Mastered by Steve Street 2010

Some remember a Bristol band called God Bless You who plagued audiences with an ever-changing onslaught of electronic noise between 1983 and 1989. They became adept at clearing dance-floors, sending punters rushing to the bar. They loved Elvis, The Doors, Prince, Iggy Pop and Bowie. But Suicide and Kraftwerk were the real inspirations for a new sound that might save the dying beast of rock n roll. They were immersed in beauty and desire, youth, hedonism – black leather, neon nights, love, sex and intoxication. It all seemed very real at the time.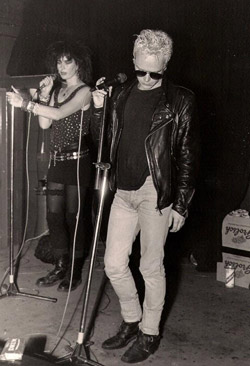 Minimalism was at the centre of their ideal – the idea stripped, without technical narcissism or the pathetic desire to entertain. The result was often primitive and possibly amateurish. But once upon a time the struggle to create new forms and push at the boundaries was expected. It was an austere and divided political and economic climate. Post-punk popular music was a much more serious project. Times change. Once in the studio God Bless You compromised as all bands do and attempted to make some product that might sell. Results: disappointing, as expected. Never listen to the advice of sound engineers in leather trousers! God Bless You were 2 then they were 3, then 4, then 5. 6 counting the drum machine. ("Where's the fucking drummer"? Music fan circa 1982-89) They were vain and egotistical and for a while they imagined that they might become stars. They did not.
Dave Ryan - Vocals
Simon Black - Guitars and Keyboards
Rita Lynch - Vocals
Pete Webb - Bass
Emma Webb – Keyboards
God Bless You was Rita Lynchs first band
Pics taken by Chris Rydlewski