Court Martial
Your War EPARC042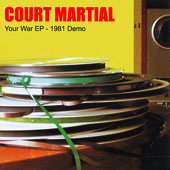 Featured Track

Court Martial
Fight For Your Life
Your War
It's My Life
Violent Confederation
Different Society
Demos originally recorded by Liam Henshall before the band signed to Riot City Records
Alex McPherson (vocals)
Simon Burrough (guitar, vocals)
Richard Braybrooke (bass guitar, vocals)
Ian Burrough (drums)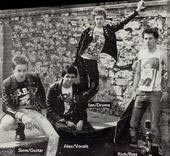 The "Court Martial" Story
The band started as what I see as a natural progression from what me, Rich, John "Trousers" Zalokoski (our original drummer) plus two other mates, began doing in the late 70`s, by writing our own lyrics to our favourite songs of the time, and taping these songs with us shouting the lyrics over the records as they played in the background.
The first song I wrote was called "Sound of our Martens", to the tune of "Sound of the Suburbs", a pleasant little ditty about how we wanted to kick the shit out of this local kid who we all hated (Don't worry, he was an asshole). Other songs started coming thick & fast after this, but we wanted more!
There weren't too many punks at St George comprehensive. A lot that had initially been into punk, quickly defected to the Mod & Ska bands that appeared in the late 70`s, & it certainly made for an "interesting" time at school during this period.
I became friends with Alex, & during some dull Geography lessons we started discussing starting our own band. He already had the name "The Zeds" in mind before anyone of us had even picked up an instrument. This was soon changed to Court Martial before any gigs were played, or any songs recorded.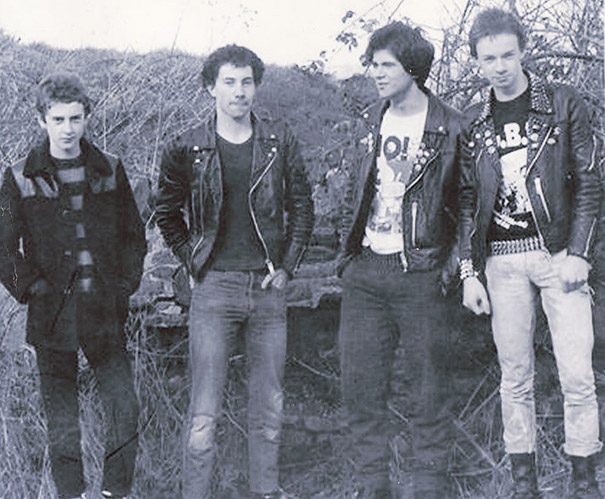 My dad had played drums since his mid teens, & at this time was still playing in a club band. Luckily, there was usually a drum kit set-up in our front room, & dad also had a cheap old bass guitar which Rich started learning. I bought a cheap lead guitar off one of my older brother Nige`s heavy metal mates. We were also fortunate in that Nige had a 100watt combo amp for use in his own band – Dancing Teeth, & kindly let us use it. We were able to plug lead, bass & mic into the same amp, & away we went.
At first, our Dad wasn't too keen on us always using his drums, so we somehow had to get our own set. Having no money whatsoever, we ended up holding a jumble sale at our local church hall, & blagged as much tat as we could from neighbours & relatives etc, to try & make some money. We got some concerned looks when we had to admit that the money was going to help form a punk band, & not going towards repairing the church roof!
With a few quid in our pockets, we headed off to "Otto's Drum Store" off College Green, & managed to blag an old bass drum, snare drum & high hat cymbals. I think he took pity on us & chucked in a pair of drum sticks for free. Between me, Rich & Alex, we also ordered a 50watt combo amp from my mum's Freeman's catalogue, which we then had to pay off at about £1.50 a week for the next 2 years.
John got "lumbered" with learning the drums, but even though he got better, he never really took to it or had the same interests as us, & he gave it up soon after.
We then drafted my younger brother Ian in. He was only about 13 at the time but had been playing drums since about the age of 5, & we started practicing as much as we could, either in our front room or in the front room of Alex's girlfriend who lived a few hundred yards down the road from my house.
Pretty much every Saturday night, you would see me, Rich & Ian, trudging up & down Whitehall Road in St George between the 2 houses, carrying 2 guitars, half a drum kit, & a bloody heavy amp. I think we may have even used my home made skateboard (a piece of tatty old wood nailed to a roller skate) to balance it on to save carrying the bloody thing! Apart from several stops to rest, we also paused on the way back each time for Rich to gob on the seat of a moped owned by another local fuckwit mod who we hated. At about this time, Heron Music was opening up on Whitehall Road, conveniently placed between our 2 houses. I think we headed in the first day it opened & all they had was about half a dozen guitars, a couple of amps, & several boxes of old records. Amazing that its still there today. We made friends with Al Heron & his wife, & used to hire him & his transit van for a fiver, to get us to gigs.
Myself & Rich started coming up with some tunes, with me, Rich & Alex sharing the task of writing lyric, even though all our songs are credited equally to "Burrough, Burrough, Braybrooke, McPherson", something that caused the Lunatic Fringe's Bear Hackenbush to quote "you sound like a bunch of fuckin` solicitors"!
Myself & Alex used to hang out at the school's social club, which came complete with a stage. It was here that witnessed the first Court Martial gig in front of our school mates, & whilst we went down ok, I think a lot of them were hoping to hear some songs they vaguely knew ("What, no Abba covers?"). I think we chucked in covers of "Warhead" & "Holidays in the Sun", but only a few would have recognised these.
We played there a second time, & Rich somehow managed to persuade three quarters of Vice Squad(only Beki made probably the best decision & stayed away!), plus girlfriends & a few mates to come & watch us. The teacher who oversaw the social club was a bit freaked out by the sight of Shane, Dave, Mark et al, but after some "persuading", agreed to let them in.
Our first "proper" gig was at the Bear on Hotwells Road. This was arranged by our manager at the time, a guy called Paul Emery, who had answered an ad for a manager, & who also worked at George's bookshop at the top of Park Street.
For some reason, we ended up headlining with a band called Mind Tunnel, who weren't really a punk band. As most of our mates weren't old enough to drive, & seeing this was quite some distance from our homes in St George, we didn't get too many people come to see us. Coupled with that, someone decided to rip out a toilet in the Gent's bog, so the landlord refused to pay us any money. Git!
Our first venture into a recording studio was when we answered an ad in the paper by "Circus Records", who had just opened up a studio (again, conveniently situated) on Whitehall Road, opposite Heron Music. They were looking to issue a compilation album by Bristol bands & we went in & played one song in the hope they would include it. In hindsight, it was probably a lucky break that they didn't like us.
Myself & Rich ended up there again soon after as part of a crowd adding backing vocals to the first Vice Squad album. They took us all out for a pint afterwards but it took a trip round several pubs in the Whitehall area before we were actually allowed in anywhere.
Our first demo was recorded (in the living room of Alex's girlfriend), by Liam Henshall, who later became a member of Londonbeat, & secured a number 2 hit in 1990 with "I've been thinking about you". Whilst he was a nice guy, the demo wasn't the greatest. We had to go to his "studio" (basically a small room in his flat) in Clifton to hear him mix it. Apparently we were not able to record it there, as his neighbour's would complain about the noise!
This went off to Riot City records boss Simon Edwards, & pretty much came back by return post with a "thanks but no thanks" response. Obviously thinking we had created some punk classics, only to be knocked back, we were suitably disappointed. Obviously, Simon had made completely the right decision, as in hindsight, it was pretty shite!
Not long after, we headed off to SAM studios & recorded 6 songs in one day with Steve Street producing. This tape again went off to Simon Edwards, & thankfully this time he must have heard something he liked, as he agreed to release 3 tracks direct from the tape as our first single "Gotta Get Out".
I used to go into WH Smiths every Thursday lunchtime, to read all the music papers, without having to buy the things. I often used to bump into Bear Hackenbush, doing the same thing. At this time, Gary Bushell was the most recognised champion of Punk in the British Press, & pretty much had the power to make or break a band (proven by a lot of shit bands getting rave reviews & decent sales, just because they were his mates). Sadly, his review of "Gotta Get Out" in Sounds fell into the latter, & his description of "a decent song ruined by terminally brain damaged vocals" killed off all hope we had of getting some positive press. Thankfully, the single still did ok & entered the independent charts at number 15. For a group of kids whose average age was still under 16 at the time & who'd only done a handful of local gigs, we were pretty chuffed.
We continued playing some of the popular local haunts, mainly alongside the Fringe at places like the Stonehouse, Green Rooms (& some school in Fishponds that I can't remember the name of), & we were also one of the many bands who played at the Bristol Punk Festival, held in the Trinity church.
As fans of most punk bands that came out of the "second wave" of punk, me & Rich in particular were regular visitors to the Granary. Rich had pretty much taken on the role of arranging most of our gigs for us by this time & kept pressuring the manager – Les Pierce, to let us support as many of the bigger name bands that came to play the Granary. I don't think any of them had a clue as to who we were when they arrived, but we ended up supporting Chelsea (twice), Vice Squad & Chron Gen. Ian sat in on Chelsea's sound check once & the rest of their band took the piss out of their drummer by saying that our Ian was better.
Riot City paid for us to go back into the studio to record 3 songs as the follow up to "Gotta Get Out", & whilst Gary Bushell was still not converted, his review wasn't quite so damning this time & he said that "after a good clarion call style intro, the song is spoilt by rushing the rest". "No Solution" failed to chart as high (No 22 I think) & only sold about half as well.
We received a lot of mail from kids who said how much they enjoyed our stuff, & we always used to reply & send them as much free stuff back as we could, including lyric sheets, badges, stickers etc. We weren't interested in making any money, it was just great to hear from people who liked our records.
We did a "Riot City" gig in Preston, with Chaos UK & the Undead, travelling up in 2 transit vans. The gig wasn't hugely attended as we found out afterwards that Crass were playing in Leeds that same night. Our friend/roadie – Brian "the Banana man" Wright got pissed & was violently sick on the way home, & was puking out the side window as we hurtled down the motorway in the early hours. When we stopped at a services, we found a trail of sick all the way down the side of the van. God knows what hit the windscreen of anyone travelling close behind us ("Christ, what must that seagull have ate for lunch"!!)
After this, I think we only played a couple more gigs, including "Spirals" in Yate supporting the Undead, as a local gig for their mates, & at some hotel in Cardiff with a local band that had contacted us & asked us to go over & headline for them.
I think we all started to become a bit disillusioned with it all by this time. Ian was still very young & understandably didn't want to have to commit to a lot of practicing. I think it all kind of fizzled out in the end rather than a big declaration from any of us that it was all over.
Rich started another band soon after called "The Gift", switching to lead guitar & getting a mate in on bass, plus having a girl singer. They used a drum machine & recorded a demo at SAM, but it never took off for them.
I`m very proud of what we managed to do in such a short space of time, & considering how young we all were. In about 18 months, we'd managed to (sort of) learn to play, release 2 singles & sold just fewer than 7000 records in total. If there is one regret, it's that we never got to record an album.

People still ask me to this day when we're going to reform, but I think if it was going to happen, it would have happened by now. Even though me, Ian & Rich all still live around the St George area, I haven't heard from Alex in several years, & the last I'd heard he was living in Southampton.
However, even now I'd still like to put some new songs out under the Court Martial name, so never say never!
Simon Burrough June 2010