Circus Circus
The Mercenary EP ARC200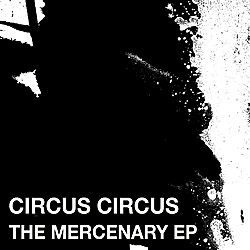 Friends Will
The Squares of the City
The Mercenary
Circus Circus
Featured Track

The Mercenary
Circus Circus got together in 1978 and formed around the nucleus of the Smith brothers Marc and Mike, and young heavy-hitting drummer Si Fish. Someone had lent us Fear and Loathing in Las Vegas by Hunter Thompson and we took the name from the casino in Las Vegas. Centre of operations was a flat on Whiteladies Rd opposite the BP petrol station. We auditioned a few singers until one day Ian Mullard came round, having been introduced by a friend, and seemed to fit in. First gig was at The Stonehouse after which we did what most Bristol bands did back then, sticking up posters, gigging all over town sharing the bill with the same old faces, being driven around my Mark Simpson in his old GPO van, getting beaten up at Trinity Hall and rehearsing in the freezing cold of Central Hall in Old Market. It was a good period because there were many talented people and bands in Bristol at that time, some of whom we got to hang out with and still do today.
Our home made demos never seemed to work out very well so we got together one day at Studio 34 in Clifton and did a quick 3 track demo, which has somehow survived, recorded with the house engineer in a single day.
Must have been not long after this we were approached by Thos Brooman, who had an idea for a cross between an album of local bands and a magazine, which became the first Bristol Recorder. Those recordings were made at a gig at Cowardines, the tapes being subsequently re-jigged at Cave St studios.
Only Si was actually from Bristol and the band eventually felt it was time to move on and relocated to London in 1980 with no management, no money and not much of a clue. Things fell apart quite quickly, with Ian leaving to manage the up and coming JoBoxers and the others continuing to write and rehearse for a number of years but never making it back to the live circuit. Mike and Si joined a band signed to Island Records and recorded an album that was never released. Si continues to work as a drummer and percussionist and has played with artists as diverse as The Shrinks and The Gun Club. Guitarist Marc has continued to write and play music with several respected London groups.
Mike Smith May 2010