Cass Carnaby Five

Captain Scarlet ARC188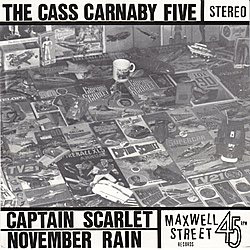 Captain Scarlet
November Rain
Featured Track

Captain Scarlet
This text will be replaced by the flash music player.
Neil 'Baby' Garland Vocals
Phil 'Blind Lemon' Elvins Lead Guitar
Sean 'Sly Elmer' Parry Guitar
Andy 'Bone Idle' Baker Bass
Pat 'Fastman' Evans Drums

Recorded at SAM Studios, Bristol 1987
Produced by Rich Yalland and Sooty

Originally released on Maxwell Street Records
Rereleased with the permission of Pat Evans
Mastered by Steve Street 2010
I've no worries about the issue of CC5's 45 at all, it's nice to see that there is interest. This in my opinion was something of an embarrasing moment, we should have put out an ep of perhaps a 4 track live set instead. This 45 does us no justice at all, we were in my opinion a cracking live outfit, with a great set of totally original material. Saying that, John Peel loved Captain Scarlet and played it several times, Annie Nightingale prefered the flip. The single went on to sell approx 600 copies and I still have 100 copies up in the roof. I formed the band out of the remains of "The Blue Riverside" (Incredible outfit) and dragged old mate Andy Baker in from "The Newbeats" the line up was completed with Phil Elvins who eventually went on to join the Corners.

Pat went on to join some crazy punk band who so say became "Big in Japan" – Chaos UK ! He was brilliant and would show up many another drummer with his £20 drum kit ! I was flung out towards the end, I never was much of a guitarist, but what I lacked in playing ability, I made up for with enthusiasm and a nack for knocking out good songs. I wrote for other Bristol Bands including "Colonal Kilgores Vietmanese formation surf Team" and later on "The Psycho Daises" These days I satisfy my love of music by DJ'ing. I currently run a succesful Club "Go Go Children" with good friend John Stapleton.
Sean Parry April 2011