Cake
Blue Powder ARC286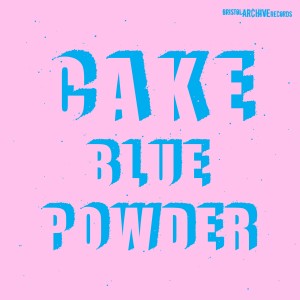 Wild Bill (10)
Falling (13)
X Ray Ears (12)
Indigo Eyes (03)
Road to Somewhere (06)
Running Away (04)
Melon Head (Demo) (11)
Take My Heart (02)
Diamond Mind (05)
Blown Away (08)
36 (07)
Blue Powder (09)
Sacred (01)
All songs: Purse
Sometime in the mid 1990's just before a rash of bands that became known as 'GFB's' (girl fronted bands) appeared I picked up my guitar and wrote some tunes, Some proper tunes. The kind of songs that last three minutes, are played on bass, guitar and a drum kit and have verses and chorus and a middle eight. This collection is most of those songs. At the time Deb' Haynes, ex singer with the wonderful Flatmates and I were living together. Just around the corner lived drummer and multi instrumentalist Jez Butler (Groove Farm, Beatnick Filmstars, The Twelve Hour Foundation) and Rupert Taylor (Groove Farm, Girl Boy Girl ). We were CAKE!
After some encouraging noises from local promoters (thanks to Dave Brayley and Merv Woolford) and a nice mention by John Peel in his Guardian review of Sound City in Bristol 1995, we spent some time in the rehearsal room and did some recordings. You will hear hints of The Small Faces / The Kinks / The Who / Neil Young and that's no accident. We were happy with the results and duly sent of our lovingly prepared C60's to labels / press / agents etc. Guess what happened. Nothing. Zilch. Zero. Oh well never mind.
We carried on swapping bass players several times until we found Ian Green (Fuzz against Junk). We played some great gigs. Some not so great and have the songs here to show for it. Listening back I think they still sound good. I hope you enjoy them.
Howard Purse – May 2016
An old woman in the launderette on Zetland Road advised me not the use the blue powder that is dispensed into plastic cups because 'the aliens will be able to see you at night'.
Notes on songs
The promise of the American dream ended up with Mickey Mouse, fake Native Americans and a Wild Bill Hickok lookalike parading in a Disney World show.
The joy of living without a safety net.
Inspired by something that the landlady of the Rising Sun said to her husband.
A kind of dream state between sleep and wakefulness that includes images from The White Hotel by D M Thomas.
You can still love someone even though you can't live with them any more. Thanks and good luck.
Sometimes the best thing to do in a bad situation is to cut your losses and head for the hills.
This relationship is over. All that is needed is a full stop. (Demo)
No explanation needed. A love song.
Doomed; she burned too bright. Written when Amy Winehouse was just a girl but sadly prophetic. Could just as well be about Edie Sedgwick. Take your pick.
R.I.P John Lennon. This song is about that fateful meeting outside the Dakota building. One take. No overdubs.
What make human relationships so interesting are the unpredictable twists and turns. Sometimes it's fun but sometimes it's a bit scary.
Some people know things that we don't. Sometimes these things only exist in their heads but then they get into our heads. This lady believed that if you use the blue washing powder in the launderette the aliens can see you at night.
Don't follow me.
Personnel:
All Songs
Debra Haynes: Lead vocal
Howard Purse: Guitars
Jez' Butler: Drums /Backing vocal /Keyboards /Slide guitar track 1.
At various times
Ian Green: Bass
Rupert Taylor: Bass / Guitar
Ed' Taylor: Bass
Leigh Wildman: Lead guitar. Tracks 8 /13
All recorded in Bristol the last time that guitars were cool. Thanks to everyone who came / played / listened / danced / loved / laughed / cried / or stayed away. Special thanks to Rocker Rosehip / Tim Rippington / Gillian Million.