Ananda Maya
Child of Light ARC131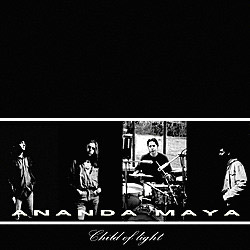 Featured Track

Child of Light
Texas
This text will be replaced by the flash music player.
Texas
See Emily Play
Baby Hate
Whiskey and Heavy Water
Lizard Queen
Preacher
Simones Life
Summer of Love
Line up:
Matt Butler
Ian Pirrie
Chris Porter
Will Ng
Toby Pascoe
Ananda Maya was recorded between Nov 1989 and Jan 1990
Matt had a friend Chris Porter who was keen to work with him so we had a test rehearsal and this guy turned up in blue jeans and lumberjack shirt and let loose with all these wild bluesy riffs. We were blown away and without any discussion our sound changed from Goth rock to ass kicking rock. The Stones, Hendrix and U2 were heavy influences and it showed when we met with record companies. They pointed out our confused direction but we didn't care! We didn't get signed either.
After a break and a lot of song writing we were ready to rehearse but John Murray had moved on already so we needed a drummer. I placed an add in Venue magazine and no one answered except a 15 year old boy who was so keen to join a band he had not even heard so I agreed to meet him. He showed up fresh faced and keen and we talked about music influences, Led Zep, Pink Floyd, Hendrix and the Doors. So without hearing if he could actually play the drums I told him he was in the band. He said he did not have a drum kit so the next day I hit my overdraft and bought him a second hand kit from a friend. All I had to do now was convince Matt and Chris that this guy was the real deal.
Toby Pascoe turned up early and we nervously tuned up the kit and waited for the others to show up. Matt arrived with Chris and they both had the same reaction, who is this kid you have foisted on us!? As it turned out he was the most talented drummer I have ever heard to date! He instantly won them over and we were for the next three years a solid unit.
Chris took us to "a big fat rock nasty groove" and we loved it. Lizard Queen was his concept with its dirty fat Led Zep inspired riff and Toby's (words can not express) supreme drumming genius.
We had a meeting with Island records; they were keen to put us in their in house recording studio to see if we could stand out of our obvious influences. It was a very exciting time for us, a band on the brink of a major record deal!
Matt announced that he was moving to London to work for Psychic TV Records and his friend Genesis P Orridge. We could still keep the band together but we'd have to rehearse in London which we did but it put a huge financial strain on us all.
Sometimes we forget that some people have to earn a living, have to pay their rent and put meat on the table. When Chris left the band to become a motorcyclist journalist we were devastated! He had to follow his heart and who could blame him, we were in a writing rut and he was going to live in Italy and review motor bikes! That was it, Matt quit the next day and we never got to record for Island Records.
At that time I still owned my recording studio in St. Paul's. Recordings were made by many Bristol bands including early work for John Parish and PJ Harvey plus many of the bands you will find on Bristol Archive Records, John Parish actually produced our final demo with Will Ng on drums who later joined Head.
Myself and Toby formed an experimental progressive rock band Arboretum inspired by Frank Zappa and Captain Beefheart. Toby took me to musical heights I never thought I could reach, he could play the drums, guitar, flute, saxophone, violin, keyboards and any musical instrument you could put in front of him.
Then he joined the Bristol pop hippy band the Moon Flowers who were on a roll and had launched their own record label Pop God. They recoded Get Higher in my studio and I was the sound engineer of their side project Praise Space Electric recorded in a cottage in Wales.
It was during this recording session that I first noticed that Toby was becoming ill; there was a particularly heavy night of recording one night. Toby and I were sharing a room with a skylight and he stayed up nearly all night looking up at the stars. We talked for hours. The next morning he persuaded me to run away with him onto the Welsh mountains and of course I agreed. We got to a point where we could just barely see the cottage and we stopped for rest. As we sat there we could see like ants the rest of the band come out of the cottage shouting at the top of their voices for us! We still had to climb down the mountain to finish the recording, which we did.
I recorded two more albums with Matt and Ian Reed (Death in June) under the name Fire and Ice.
Toby joined Break Beat Era and had a love affair with their front woman and diva Leonie Laws.
One night Toby came to see me in my local pub and he told me he did not like pubs they made him feel uncomfortable. I invited him to my house and we lit a fierce fire and talked about the good old days. He was very agitated, fragile and confused and mentioned suicide a few times.
I did not see Toby for a few days so I asked after him through some friends but no one had seen him and I started to worry. A few days later I was told he hung himself from a tree in Leigh Woods.
The funeral was strange, I saw lots of people I had never met who made a big thing about Toby's death. At the back of the church was Leonie who called me later on through a friend and I told her about my last night with Toby and we bonded immediately. I knew that I had to make music with Leonie just like all those times when I met people in the past who I instantly knew were the right people to work with without even hearing them.
Toby lives on through our music; we are half way through recording an album under the name Voodoo Butter so watch this space.
Ian Pirrie. Dec 2009