This comprehensive gig list was kept by Richard Wyatt. He attended the most amazing amount of gigs during the period 1978-1985.
Cataloguing. A boy's thing, I know. But keeping a note of which bands I'd seen, where, and how much each gig cost to get into, seemed a kind of natural thing for me to do in summer 1978 when I started going to gigs, a teenager living in Bishopsworth, south Bristol.
Nowadays this obsessive behaviour might attract medical intervention, or at least be called a 'condition' and allocated a long name and a swathe of learned articles in medical journals. Come to think of it, maybe it would have back then… if only I'd told anyone I was doing it. I didn't.
Alone in my room I began a furtive habit that would see me keeping sheets of lined A4 paper, probably intended for geography homework handed down by Bedminster Down Comprehensive's finest pedagogues, instead becoming the subject of a finely detailed and now-precious chronicle of Bristol's brilliant music heritage.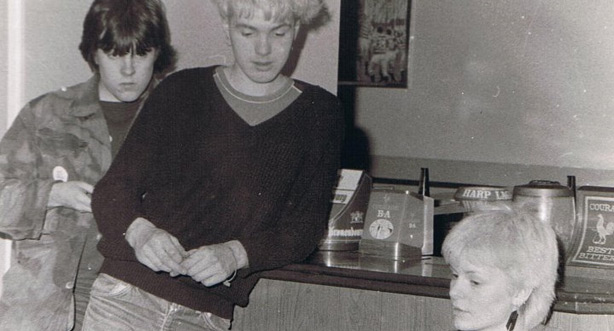 Weird, I know. But I'm so glad I did it, because these six simple double sided sheets now give the sort of insight into a teenage music fanatic's life in Bristol from 1978 to 1985 that many shared but few recorded. Well, not so much 'few', as none, I reckon.
My brother, three years older than me and a veteran of the weekly £1.50 Sunday punk nights at Bristol Locarno, had taken me under his wing soon after I hit 15, letting me join him when decent post-punk bands came to town. The fact he had a car meant we were free to travel away from Bristol for live music too. These were days when a band's national tour was truly a tour. No European dates back then, so 50 or 60 British venues, pretty much night after night. It meant the opportunity to see the same band not only in Bristol, but also follow them when they visited Bath, Newport, Cardiff and Malvern.
A school pal or two, also avid music buffs, would sometimes come along too, and so a culture of gig-going pretty much night-after-night for six or seven years was begun. My brother's interests went in different directions so after a few months of my christening I was a regular at Bristol gigs. Sometimes I went with mates. Sometimes I'd go and I'd stand on my own.
Things that should really have got in the way of my music fandom found themselves edged out. I'd done okay in my O levels but didn't hit the dizzy heights my teachers thought I should. Then when it came to sixth form and A levels, well, the notion of 'independent evening study' that formed a centrepiece of the academic high flyer's lifestyle never really troubled mine. Three A level subjects eventually became two as maths went by the wayside. I scraped through the two. Did I blame music for my under-achievement? No. But perhaps looking back I should have. Did the teachers blame the music? Well, no, but maybe had those gig lists not been quite so secret they'd have started asking questions.
I left sixth form in 1981, going straight into work. Living at home and earning what felt like a decent wage at WD & HO Wills on a business apprenticeship scheme meant there was cash for my passion. Just as well, really. Take a look at the prices of gigs those days and it looks dead cheap (£2.50 for Colston Hall ticket, 80p for The Green Room), but it mounted up, especially when you drank when you were there. And of course the money was stretched further when you spent Saturdays acquiring vinyl treasures in Revolver Records on The Triangle, Rival in Bedminster, or HMV and Virgin in Broadmead.
Highlights from big-name and emerging bands on their local tour dates are too many to list in full, but who amongst those who were there could forget The Ruts at Romeo and Juliet's, The Smiths at the University Anson Rooms, U2 at The Berkeley, or The Comsat Angels and The Sound at Bath Tiffany's?
Then there was an unforgettable night at The Locarno when Joy Division had meant to be supporting The Rezillos. They'd travelled down from Manchester but The Rezillos split up that day and somehow Joy Division got removed from a bill which mysteriously would contain the then-unknown Undertones, Chelsea and John Otway. A someone who now dotes on New Order I probably should regret the late switch. But this triple-header turned out to be one of the best gigs I've ever been to. Ever. And Feargal Sharkey signed my t-shirt. Think I've still got it. Don't think it still fits.
But the majority of my nightly outings weren't major gigs - rather ones at smaller venues, mainly watching Bristol bands who I came to love - the likes of Essential Bop, Vitus Dance, Apartment, Art Objects & The Blue Aeroplanes, X-Certs, TVIs, Sneak Preview, Out of Order (who became Thin Air) and Dancing Teeth.
And Mind Tunnel, good friends who asked me to 'manage' them … in other words get them gigs, generally promote them, and cart their bloody heavy drums around in my Datsun 100A. It was a privilege, an honour, hard work and great fun, and some time down the line Thin Air came asking me to do the same with them.
You don't know what you've got til it's gone, and some of those Bristol venues – all now long gone - were paradise to me. The Stonehouse, a room behind The Bunch of Grapes pub that usually cost 50p to get into, run by the indomitable Madge, who let you hire the place for a crisp five pound note. When they knocked it down they put up, well, not a parking lot, but a massive glass office block called Spectrum which itself is now long gone, so maybe there is some justice after all.
The hire-cost of the Green Room, King Street, run by Les and Rich, was, ahem, a little more fluid than that of The Stonehouse, but it was a fantastic small venue. Then there was The Plume of Feathers pub in Hotwells, where bands somehow set up in the corner at the end of the bar, right next to the Gents, meaning several times each set there were awkward avoidance manoeuvres for bassist and would-be bladder evacuee.
The Bristol Bridge Inn was a gem, as was The Berkeley, a room above what's now a Wetherspoon's at the top of Park Street – and was at the time a Carwardine's Coffee House. It hosted very refined tea dances on Sunday afternoons, and noisy gigs a couple of nights a week. I say they've all closed now, but that's not true: Trinity Hall still hosts gigs and it existed back then. It was cavernous and bloody freezing most of the time. My most recent experience there tells me it still is.
My ambitions stretched to trying to get Mind Tunnel gigs further afield. We found gigs in places like Stroud, Bath and Weston-super-mare, where Birnbeck Pier hosted the band the night after guitarist Simon had smashed his leg in a motorcycle accident, and performed seated with plastered-leg aloft. I understand Dave Grohl did his best to emulate him years later.
In comic-and-badge shop Forever People half way up Park Street you used to be able to buy a Somerset-based fanzine called Sheep Worrying. I got involved with the arts enthusiasts from Bridgwater who ran the fanzine. They were keen to set up a scheme whereby their local bands could play support gigs in Bristol, with a reciprocal arrangement for city-based musicians to entertain the good folk of the Somerset Levels. I was asked to be the Bristol link, writing reviews for the fanzine, arranging gigs here and generally stretching my metaphorical gig-going legs still further to Bridgwater and Glastonbury village halls. Oh, the glamour.
There were Battle of the Band nights at The Granary, Sunday evenings in pubs watching bands unknown-to-me simply to stave off the horror of a Monday morning return to work, and the occasional trip to London to see up-and-coming bands perform in venues that had previously only existed to me as places from reviews in Sounds and NME. The Marquee, Hammersmith Palais, The Fulham Greyhound and others now became real, though I still contend none of them beat The Stonehouse.
Nowadays I look at these gig lists and wonder many things. Why did I keep these bits of paper all these years? Why did I go every night? Why spend so much money? What did I miss out on as a result? But the biggest question to myself might just be 'Why did I stop writing them down?' Was it because in 1985 I stopped going? I don't think so, because I know that, despite going off to study a teaching degree, I still saw bands - albeit not as frequently. I can't remember the details because, errrm, well, I stopped writing them down.
Perhaps I came to feel that boyhood-style cataloguing was ill-becoming of an undergraduate in a College of Higher Education. If only I'd then been able to see what a valuable academic historical artefact I'd created.
Thirty years on I'm still living in south Bristol, working here too. As my family grew, I started to rediscover the gig-going habit in recent years. I don't go every night – far from it. And so I don't spend much on tickets these days.
Ask me who I've been to see in the past year or two and I'll happily reel the names and venues off. Is that because I've resumed my cataloguing habit? Well, no, just memory, actually. For now at least.
Richard Wyatt (May 2016)
The Gig List
Date
Bands
Venue
Cost
28/06/78
Young Ones, Boomtown Rats
Colston Hall
£2.50
14/07/78
Zones, Magazine
Colston Hall
£1.50
20/09/78
10CC
Colston Hall
£4.00
22/09/78
Stiff Little Fingers, Tom Robinson Band
Colston Hall
£2.50
27/09/78
Skids, Stranglers
Bath Pavillion
£2.50
19/10/78
Buzzcocks
Malvern Winter Gardens
£2.00
30/10/78
Subway Sect, Buzzcocks
Colston Hall
£2.50
13/11/78
Blazer Blazer, AC/DC
Colston Hall
£1.80
19/11/78
Undertones, John Otway, Chelsea
Locarno
£1.25
28/01/79
John Cooper Clarke,Richard Hell and The Voidoids,Elvis Costello & The Attractions
Locarno
£2.50
22/02/79
The Members, Eddie & The Hot Rods
Bath University
£2.20
04/03/79
Robert Rental & The Normal,Essential Logic, Stiff Little Fingers
Locarno
£1.50
22/03/79
The Pretenders
Bristol Poly
£0.90
28/05/79
The Chords, The Undertones
Locarno
£2.00
29/05/79
Starjets, Stiff Little Fingers
Colston Hall
£2.50
17/06/79
Ruts, The Damned
Locarno
£2.00
30/06/79
Essential Bop
Ashton Court
Free
01/07/79
X-Certs, Europeans, (Steps, Spoons, Shoes for Industry
Ashton Court
Free
01/08/79
Interview, Pretenders
Newport Stowaway
£1.50
06/09/79
TVI's
Crown Cellar
£0.50
11/09/79
Spics, Starjets
Granary
£1.00
18/09/79
Viva, Yachts, XTC
Colston Hall
£1.75
30/09/79
The Photos, The Undertones
Locarno
£2.00
07/10/79
Donkeys, Stiff Little Fingers
Locarno
£2.50
08/10/79
Flys, Ruts
Romeo & Juliets
£1.75
11/10/79
Revelation Rockers, Spics
Tiffanys
£1.25
19/10/79
Stingrays, Apartment, Double Vision, Private Dicks, Essential Bop
Hope Chapel
£1.00
21/10/79
The Meteors, Jane Eyre & The Belvederes, Lene Lovich
Locarno
£2.50
23/10/79
Gas Taps, Spics
Granary
£1.00
25/10/79
Apartment, Sneak Preview,Private Dicks
Tiffanys
£1.00
27/10/79
Vitus Dance
Crown Cellar
£0.50
04/11/79
Joy Division, Buzzcocks
Colston Hall
£2.00
07/11/79
Under Fives, Vitus Dance
Stonehouse
£0.50
13/11/79
Vitus Dance
Stonehouse
£0.50
21/11/79
Vitus Dance, Generation X
Granary
£2.00
15/12/79
The EF Band
Granary
£1.50
30/01/80
Zyklon B
Chestnut
£0.75
07/02/80
Boys, Ramones
Colston Hall
£3.50
13/02/80
Zyklon B
Chestnut
£0.95
16/02/80
Zyklon B
Chestnut
£0.95
29/02/80
Amaziah
Redland Church Hall
£0.60
05/03/80
Zyklon B
Chestnut
£0.75
08/03/80
Sound to Light, Mayfair, Siren
Stonehouse
£1.00
10/03/80
Another Pretty Face, Stiff Little Fingers
Colston Hall
£3.00
12/03/80
Zyklon B
Chestnut
£0.75
15/03/80
Zyklon B
Chestnut
£0.75
19/03/80
Zyklon B
Chestnut
£0.75
29/03/80
Mayfair, X-Certs
Hope Chapel
£0.80
26/04/80
Zyklon B
Chestnut
£0.75
27/04/80
Moondogs, Undertones
Bournemouth Winter Gardens
£2.75
10/05/80
TVI's, Apartment
Stonehouse
£1.00
16/05/80
Dolly Mixture, Moondogs, Undertones
Bath Pavillion
£2.25
17/05/80
Dolly Mixture, Moondogs, Undertones
Malvern Winter Gardens
£3.00
18/05/80
Dolly Mixture, Moondogs, Undertones
Cardiff Top Rank
£2.25
31/05/80
Sneak Preview
Green Room Club
£1.20
01/06/80
TVI's
Plume of Feathers
n/k
09/06/80
One on One, Toyah
Locarno
£2.25
24/06/80
Otway and Barrett
Trinity Hall
n/k
28/06/80
Off Balance, Fans, X-Certs, Sneak Preview
Ashton Court
Free
29/06/80
Negative Earth, Zyklon B , TVI's, Shoes for Industry
Ashton Court
Free
15/07/80
Screen Gems, The Fans,
Rainbow
0.85
26/07/80
Weapon of Peace, Stiff Little Fingers
Bath Pavillion
n/k
29/07/80
Circus Circus, Electric Guitars
Rainbow
0.85
13/08/80
X-Certs
Stonehouse
£0.90
19/08/80
Points, Juan Foote 'n' The Grave
Rainbow
£0.85
20/08/80
The Untouchables
Green Room
£0.60
30/08/80
Amaziah
Salt Cellar
£1.00
02/09/80
X-Certs, Protex
Rainbow
£1.25
05/09/80
The Untouchables, Various Artists, Electric Guitars
Berkeley
£0.75
09/09/80
Misdemeanour, U2
Rainbow
£1.25
14/09/80
Swinging Cats, Specials
Locarno
£2.00
16/09/80
TVI's, Shoes for Industry
Rainbow
£1.00
23/09/80
The Toys, Split Enz
Berkeley
£1.75
28/09/80
Zyklon B, Demob, Vice Squad
Trinity Hall
n/k
29/09/80
Utility Stops, Misdemeanour
Stonehouse
£0.50
30/09/80
The Sound, Echo & The Bunnymen
Berkeley
£2.00
02/10/80
The Piranhas
Bristol Poly
£1.80
14/10/80
Virus, Zyklon B
Stonehouse
n/k
22/10/80
The Toys, Nine Below Zero
Berkeley
£1.50
28/10/80
Stingrays
Stonehouse
£0.75
01/11/80
Utility Stops, Misdemeanour
Green Room Club
£1.20
03/11/80
The Fatal Charm, Orchestral Manoeuvres in the Dark
Colston Hall
£2.00
06/11/80
Stingrays, X -Certs , Electric Guitars
Tiffanys
£1.50
13/11/80
The Untouchables
Granary
£1.00
14/11/80
Flash Harry, Misdemeanour, Points, Voice of Nature
Berkeley
£0.50
15/11/80
Midnight & The Lemon Boys, U2
Bristol Poly
£1.50
17/11/80
X-Certs, Sneak Preview
Berkeley
£1.00
20/11/80
Lozenges, The Moondogs
Bristol Poly
£1.50
14/12/80
Modern Man, XTC
Locarno
£3.00
10/02/81
Richmond, Zyklon B, React
Stonehouse
£0.50
11/02/81
The Amateurs
Green Room
£1.00
18/02/81
TV21, The Moondogs
Berkeley
£2.25
19/02/81
Mind Tunnel, Out of Order, React
Stonehouse
£0.50
27/02/81
Fish Food, TVI's
Trinity Hall
£1.25
03/03/81
Mind Tunnel
Stonehouse
n/k
04/03/81
Out of Order, Sky High
Granary
£1.00
10/03/81
Out of Order, The Options
Stonehouse
n/k
13/03/81
Undertones, Revillos
Bristol Uni
£7.00
23/03/81
Out of Order, Virus, Mind Tunnel
Stonehouse
n/k
28/03/81
Robert Lawrence, React, Out of Order, Baleeshas
Trinity Hall
£1.00
06/04/81
Motörhead
Granary
£3.00
23/04/81
Out of Order, Mind Tunnel
Green Room
n/k
27/04/81
Blue Orchids, Echo & The Bunnymen
Colston Hall
£2.50
02/05/1981
The Cure
Colston Hall
£3.00
03/05/81
Mood Elevators, Au Pairs, The Beat
Locarno
£3.50
14/05/81
The System, Squashed Piranha
Stonehouse
£1.00
16/05/81
Orgasm, Grief, Desperate Hours, Mind Tunnel
Bridgwater A.C
n/k
25/05/81
Voice of Nature, Theatre of Hate
Granary
£2.50
27/05/81
React, Essential Bop
Green Room
£1.00
01/06/81
Essential Bop, Altered Images
Granary
£2.50
05/06/81
Court Martial, Mind Tunnel
Bear
n/k
10/06/81
Dolly Mixture, The Undertones
Bath Pavillion
£3.50
13/06/81
Exploding Seagulls, Essential Bop, Art Objects
Churchill Hall
£1.00
14/06/81
The Tropics
Plume of Feathers
n/k
15/06/81
Dancing Teeth, Thin Air
Stonehouse
£0.99
17/06/81
Dolly Mixture, The Undertones
Cardiff Top Rank
£3.00
18/06/81
Dolly Mixture, The Undertones
Colston Hall
£3.25
20/06/81
Delmontes, Teardrop Explodes
Colston Hall
£3.50
27/06/81
The Controls
Chutes
£1.25
29/06/81
Mind Tunnel, Demented Stoats
Roxpot, Bath
n/k
30/06/81
Various Artists
Chutes
£1.00
04/07/81
Mind Tunnel
Chutes
n/k
07/07/81
Streets Ahead, The Controls, Terraplanes, The Review, Nightwatch, Mr Sprat's 21st Century M???
Granary
£0.50
09/07/81
Thin Air, Noiz Boiz
Stonehouse
n/k
11/07/81
Uncle Fred's Lucky Tandem, Victory Boogie Woogie, Noiz Boiz, Shiva,
Bridgwater A.C
n/k
14/07/81
Hep Cats, Mind Tunnel, Rimshots, Beat Treatment, Emotion Picture, Camden Cruisers
Granary
n/k
18/07/81
The Controls
Green Room
£1.00
27/07/81
Juice, Essential Bop
Roxpot, Bath
£1.20
?/07/81
SOS, The Options, Mind Tunnel, The Review
Granary
n/k
01/08/81
The Tropics
Green Room
£1.00
02/08/81
Misdemeanour
Plume of Feathers
n/k
03/08/81
Stage, Misdemeanour
Roxpot, Bath
£1.00
08/08/81
Mind Tunnel, Black Roots
St James Theatre Bath
n/k
17/08/81
Neon Downwards, Intensified Chaos
Stonehouse
n/k
22/08/81
Bop Street, The Untouchables
Green Room
£1.20
26/08/81
The Untouchables
Pumphouse
n/k
28/08/81
Atilla the Stockbroker, Patrick Fitzgerald
Roxpot, Bath
£1.50
04/09/81
Riz Wah Wah, Dangerous Brothers, The Bite
B.A.C
£1.00
10/09/81
The Voice of Nature
Green Room
£1.00
11/09/81
Over The Edge
Wheatsheaf
£0.50
12/09/81
Red Radio
Wheatsheaf
£0.50
12/09/81
Streets Ahead
Green Room
£1.20
14/09/81
Author Unknown, Dancing Teeth, Neon Downloads, Mind Tunnel
Stonehouse
n/k
17/09/81
Hybrids
Chutes
£1.00
21/09/81
Mind Tunnel, The Ultimate Dance
Roxpot, Bath
n/k
22/09/81
Thin Air
Chutes
£1.00
24/09/81
Rhythm Puppets, Thin Air
Green Room
£1.00
27/09/81
The Sound, Comsat Angels
Bath Tiffanys
£2.50
29/09/81
Voice of Nature, Mind Tunnel
Barge, Semington
03/10/81
Over The Edge
Wheatsheaf
£0.50
03/10/81
The Controls
Green Room
£1.20
06/10/81
Boys Will Be Boys, The Passions
Bath Tiffanys
£2.25
09/10/81
Bad Detectives, Red Factory, Mind Tunnel
B A C
n/k
10/10/81
Thin Air, The Controls
Bristol Bridge Inn
£0.50
13/10/81
Hybrids, Thin Air, Over The Edge
Granary
£1.00
14/10/81
Comsat Angels, U2
Cardiff Top Rank
£3.00
15/10/81
Dancing Teeth, Thin Air
Green Room
£1.00
16/10/81
Mind Tunnel, Over The Edge, Red Radio, Recorded Delivery
Trinity Hall
n/k
17/10/81
Mind Tunnel
Epicurean Bar
n/k
18/10/81
Comsat Angels, U2
Locarno
£3.00
22/10/81
Glass Life
Stonehouse
£0.50
23/10/81
Escape
Trinity Hall
£1.50
24/10/81
Thin Air
Epicurean Bar
n/k
29/10/81
Mind Tunnel, Red Radio
Green Room
n/k
30/10/81
Garbage, Mind Tunnel, The Untouchables
Street
n/k
31/10/81
Lucan, Sneak Preview
Green Room
£1.00
03/11/81
Talisman, Bauhaus
Locarno
£3.50
05/11/81
East 42nd Street,
Green Room
£0.80
06/11/81
Red Factory, Mind Tunnel
Weston Poly
£7.00
07/11/81
Glass Life, Misdemeanour
Green Room
£1.00
10/11/81
Inflammable, Mushroom, Dancing Teeth
Stonehouse
n/k
12/11/81
Mind Tunnel, Thin Air
Green Room
n/k
14/11/81
Mind Tunnel, Noiz Boiz
Weston Pier
n/k
19/11/81
Milan Models
Green Room
£0.80
24/11/81
Mind Tunnel, Thin Air
St Mathias
n/k
25/11/81
Escape, Delta 5
Trinity Hall
£2.00
26/11/81
Another Unknown, Glass Life, Mind Tunnel
Stonehouse
n/k
01/12/81
Club Waiters,Hybrids
Stonehouse
£0.50
05/12/81
Mind Tunnel, Ten Pole Tudor
Stroud Leisure Centre
n/k
06/12/81
The Bureau, Roddy Radiation and The Tearjerkers, Modettes
Trinity Hall
£2.00
08/12/81
Lozenges, Heebeegeebees, Electric Guitars
St Mathias
£2.00
10/12/81
Thin Air, Gross Club
Green Room
£0.80
12/12/81
Another Unknown, Rye & The Quarterboys
Green Room
£1.00
17/12/81
Mind Tunnel, Thin Air
Green Room
n/k
22/12/81
Voice of Nature (Xmas Party)
Ace of Clubs
n/k
23/12/81
Jon Kelly etc, The Builders
Trinity Hall
£2.00
02/01/82
Controls
Green Room
£1.00
07/01/82
Neon Downwards, Another Unknown, Special Guests
Stonehouse
n/k
28/01/82
Ravishing Beauties,Teardrop Explodes
Colston Hall
£3.50
01/02/82
Boys in Darkness, The Stranglers
Locarno
£3.50
04/02/82
Club Waiters, Mind Tunnel
Green Room
n/k
06/02/82
Floating Mozarts, Confined Spaces, 57 Man Overboard, Pure Motivation,
BAC
£1.00
08/02/82
Panicking Grannies, Another Unknown, Dancing Teeth
Stonehouse
n/k
13/02/82
Sneak Preview
Green Room
£1.00
16/02/82
Dancing Teeth, Another Unknown
Green Room
n/k
18/02/82
Dancing Teeth, Mystery Guests
Green Room
£0.80
19/02/82
Dancing Teeth, Sneak Preview
Bristol Bridge Inn
£1.00
26/02/82
The Wake, New Order
Trinity Hall
£2.50
28/02/82
Mr Spratts, John Cooper-Clarke
Bath Tiffanys
£2.50
02/03/82
Panicking Grannies
Stonehouse
£0.50
06/03/82
Manslaughter, Squashed Piranha, Mind Tunnel
West Penard
n/k
08/03/82
Meteors, Theatre of Hate
Locarno
£3.00
11/03/82
Dancing Teeth, Thin Air
Green Room
£0.80
13/03/82
Cold
Trinity Hall
£1.00
18/03/82
Dancing Teeth, Another Unknown
Green Room
n/k
19/03/82
Dancing Teeth, Sneak Preview
Bristol Bridge Inn
£1.00
20/03/82
Another Unknown, Rye & The Quarterboys
Green Room
£1.00
23/03/82
Another Unknown, Dancing Teeth
Green Room
£0.80
26/03/82
Mind Tunnel, Lunatic Fringe, The Escape
Trinity Hall
n/k
27/03/82
The Controls
Green Room
£1.00
03/04/82
Another Unknown, Misdemeanour
Green Room
£1.00
08/04/82
Bop Street
Green Room
£0.80
10/04/82
Pure Motivation
Bristol Bridge Inn
£1.00
10/04/82
Wild Beasts
Green Room
£1.00
11/04/82
King Trigger, Thompson Twins
Trinity Hall
£2.00
15/04/82
Builders
Green Room
£1.00
16/04/82
Scream and Dance, The Higsons
Trinity Hall
£1.00
17/04/82
Bop Street, The Untouchables
Green Room
£1.00
18/04/82
Cardiac Caress
Bristol Bridge Inn
n/k
19/04/82
Club Whoopee, Quazor, Headless Horsemen
Stonehouse
£0.70
20/04/82
The Cure
Colston Hall
£3.50
23/04/82
Unconditional Love
Bristol Bridge Inn
n/k
24/04/82
Dancing Teeth, Club Whoopee, Quazor, Headless Horsemen
BAC
£0.80
28/04/82
Camden Cruisers
Bristol Bridge Inn
n/k
29/04/82
Another Unknown, Thin Air
Green Room
n/k
01/05/82
Harry and Hilary, Electric Guitars
Trinity Hall
£1.50
04/05/82
The Escape, Crown of Thorns
Bath Tiffanys
£1.80
06/05/82
Rhythm Puppet
Stonehouse
£0.50
08/05/82
Misdemeanour
Bristol Bridge Inn
£1.00
11/05/82
Ground Zero, The Red And The Black, Syl Sylvain's Teardrop
tThe Venue
£2.50
12/05/82
The Reactions, The Crack
Fulham Greyhound
£1.50
15/05/82
Trainspotters
Bristol Bridge Inn
£0.50
16/05/82
Vic Goddard's Subway Sect, Altered Images
Locarno
£3.00
18/05/82
Screaming Dead, Necromancy
Trinity Hall
£0.75
22/05/82
Juan Foote 'n' The Grave
Green Room
£1.00
23/05/82
Real Numbers, The Sound
Bath Tiffanys
£2.50
26/05/82
Panicking Grannies
Stonehouse
n/k
28/05/82
Play Dead
Trinity
n/k
29/05/82
Bop Street, Jim McLean 5
Green Room
£1.00
30/05/82
Choice Treats for Children
Bristol Bridge Inn
n/k
31/05/82
Brilliant Corners, Club Waiters
Landsdown
n/k
01/06/82
Thin Air, Mind Tunnel, Dancing Teeth
Stonehouse
n/k
03/06/82
Moral Minority, Rhythm Puppet
Stonehouse
n/k
05/06/82
Misdemeanour
Green Room
£1.00
06/06/82
Spot The Dog
Bristol Bridge Inn
n/k
11/06/82
Pure Motivation
Bristol Bridge Inn
n/k
13/06/82
Opposite Man
Bridge
n/k
15/06/82
The Red And The Black
Moonlight
n/k
19/06/82
Bop Street, Face to Face
Green Room
n/k
26/06/82
Panicking Grannies
Stonehouse
n/k
27/06/82
Loose Change
Bridge
n/k
02/07/82
Tao
Green Room
£1.00
03/07/82
Brilliant Corners, Mind Tunnel
Green Room
n/k
08/07/82
Thin Air
Green Room
£1.00
17/07/82
Pigbag,The Beat, Drummers of Burundi, Echo and The Bunnymen
Womad
£5.00
18/07/82
Dinner Ladies
Bridge
n/k
22/07/82
Airbridge, The Red And The Black
Moonlight
n/k
28/07/82
Spot The Dog
Bridge
n/k
31/07/82
Spot The Dog, Misdemeanour
Bridge
£0.50
11/08/82
Club Whoopee
Bridge
n/k
16/08/82
The Alarm, The Undertones
National Club, Kilburn
£3.50
05/09/82
The Inane
Bridge
n/k
15/09/82
The Scars, Comsat Angels
The Venue
£3.00
17/09/82
The Escape
Bridge
£1.00
18/09/82
Misdemeanour
Bridge
£1.00
21/09/82
Apocalypse, The Jam
Showering Pavillion
£5.00
25/09/82
Mind Tunnel, Face To Face
Viaduct, Limpley Stoke
n/k
26/09/82
Thin Air
Bridge
n/k
02/10/82
Misdemeanour
Western Star Domino Club
£1.30
09/10/82
Thin Air
Western Star Domino Club
n/k
24/10/82
Thin Air
Bridge
n/k
28/10/82
Thin Air
Redland Bar
n/k
04/11/82
Eaeagba, Bohana Mouse Band, Distant Cousins, Mind Tunnel, Agents,Umo Vogue
Trinity
£0.80
11/11/82
Club Waiters,Screaming Dead, Opposite Man, Decay Sisters, Cold, Thin Air
Trinity
£0.80
13/11/82
False Idols, The Sound
Redland Poly
£1.80
14/11/82
Moral Minority
Bridge
n/k
18/11/82
Mind Tunnel
Redland Bar
n/k
21/11/82
Strawberry Switchblade, Orange Juice
Locarno
£3.00
25/11/82
Deckchairs, Decay Sisters, Umo Vogue, Poppies
Trinity
£1.30
26/11/82
Black, It's Immaterial, Wah!
Bristol Uni
£2.25
03/12/82
Confined Spaces, Mind Tunnel, Mr Completely
BAC
£1.00
05/12/82
Mind Tunnel
Bristol Bridge
n/k
10/12/82
Trainspotters
Bridge
n/k
15/12/82
Mind Tunnel
Bemmy Down 6th Form
£1.00
18/12/82
Restriction, The Escape
Trinity
£1.75
19/12/82
Now is the time to forget the whimpering child, become the Warrior, Echo and the Bunnymen
Golddiggers
£4.00
21/12/82
Opposite Man
Bridge
£0.75
28/12/82
Mind Tunnel
Bridge
n/k
07/01/83
Thin Air
Western Star Domino Club
£1.00
27/01/83
John Cooper Clarke
St Mathias
£1.70
28/01/83
Wilko Johnson & Lew Lewis
Ding walls
£2.00
03/02/83
Now is the time etc, Echo and the Bunnymen
Colston Hall
£3.50
04/02/83
Thin Air
Bridge
£0.80
10/02/82
One The Juggler
Dingwalls
£1.50
15/02/83
The Escape
Bridge
n/k
02/03/83
The Nightingales
Dingwalls
£1.50
03/03/83
Groovy Pineapple, Dancing Teeth, Moral Minority
Granary
£0.75
05/03/83
Kevin Brown, Streets Ahead
Bridge
£1.50
07/03/83
The Nightcaps,U2
Colston Hall
£4.00
18/03/83
U2
Leeds Uni
£3.50
19/03/83
Tears for Fears
Leeds Uni
£3.50
22/03/83
Cook da Books, The Undertones
Locarno
£3.50
04/04/83
Decay Sisters
Dingwalls
£1.50
08/04/83
Thin Air
Western Star Domino Club
£1.00
15/04/83
Sneak Preview
Bristol Bridge
£1.00
17/05/83
Trainspotters
Bridge
n/k
25/05/83
Mayfair, The Alarm
Dingwalls
£0.50
09/07/83
Gaspar Laural, The Undertones, Thompson Twins, Peter Gabriel
Selhurst Park
£8.30
23/07/83
Losenges
College Green Fair
n/k
24/07/83
Birth of Sharon, Either/Or, Koto, Startled Insects, Malcolm Bennett, Untouchables
Ashton Court
Free
05/08/83
Thin Air
Western Star Domino Club
£1.00
23/08/83
Empire, Comsat Angels
Venue
£3.20
13/09/83
One the Juggler, Big Country
Colston Hall
£4.00
24/09/83
Belle Stars, The Strawbs, Big Country, David Essex, UB40
Showering Pavillion
n/k
07/10/83
Seven Seven
Crown
n/k
20/10/83
The Climb, The Alarm
Bath University
£2.75
25/10/83
Rank and File, Elvis Costello and the Attractions
Studio
£4.00
02/12/83
Big Outdoor Type
Crown
n/k
29/12/83
Hurt
Bristol Bridge Inn
n/k
04/01/84
Kiev, Vice Squad
Granary
£1.50
08/01/84
Basic Humour
Bridge
n/k
16/01/84
Thin Air
Bridge
n/k
21/01/84
The Pretenders
Leeds Uni
£4.00
03/02/84
Waddi Vision, New Model Army
Bath University
£1.00
07/02/84
Thin Air
Bridge
n/k
12/02/84
Lost Loved Ones, Jake Burns' Big Wheel, Alarm
Studio
£3.00
13/02/84
Billy Bragg, The Clash
Colston Hall
£4.00
24/02/84
Telephone Boxes, The Smiths
Bristol Uni
£3.00
25/02/84
Blue Aeroplanes
Trinity Hall
£2.00
01/03/84
Ground Zero, Jake Burns & The Big Wheel
Venue
£3.00
22/03/84
Come in Tokio, Icicle Works
Bower Ashton Poly
£2.00
26/03/84
Thin Air
Bridge
29/03/84
Ian Dury and The Music Students
Bath University
£4.00
13/04/84
The Waterboys
Bournemouth Upstairs At Eric's
£2.50
14/04/84
The Scarecrows, The Waterboys
Birmingham Tin Can Club
n/k
16/04/84
Felt, Cocteau Twins
Cardiff New Ocean Club
£3.50
04/05/84
And Also The Trees, The Cure
Colston Hall
£4.50
04/05/84
Thin Air
Bridge
£1.50
13/05/84
Prefab Sprout
Studio
£4.00
26/06/84
False Idols, Misdemeanour, Ian Dury and The Music Students
Studio
£4.50
03/07/84
The Tears, The Waterboys
Cardiff New Ocean Club
£2.50
07/07/84
Nick Lowe and his Cowboy Outfit, Santana, UB40, Bob Dylan
Wembley
£11.00
15/07/84
Automatic Dlamini, Anthill Mob, Blue Aeroplanes, Brilliant Corners
Ashton Court
Free
20/07/84
The Tears, The Waterboys
Birmingham Tin Can Club
n/k
Sep-84
Immaculate Fools, Tom Robinson and his crew
Hippodrome
£5.00
06/10/84
The Real Thing
BCHE
£3.50
14/10/84
The Pogues, Elvis Costello and the Attractions
Studio
£5.00
24/10/84
Joy Polloi, Opposite Man
Reviews
n/k
06/11/84
Elderly Bop, New Model Army
Bierkeller
£2.50
10/11/84
Harpoons
Crown
n/k
14/11/84
T-Bone Burnett, Elvis Costello
Colston Hall
£5.00
23/11/84
Hedone, 99 Shy
Bath University
£2.00
13/12/84
Eddie & The Hot Rods
Bath Uni
£2.50
15/12/84
Blue Aeroplanes
Old Profanity
£1.50
18/12/84
Shattered Silence
Bridge
n/k
03/02/85
Woodentops, Everything But The Girl
Studio
£3.50
07/02/85
John Otway
Walcot U H
£1.50
12/02/85
Shattered Silence
Bridge
£0.50
14/02/85
False Idols
N P S U
n/k
12/03/85
James King & The Lone Wolves
Moles
£1.60
17/03/85
Porky the Poet, Sid Presley Experience, Billy Bragg
Studio
£3.50
20/03/85
Eden, The Sound
Marquee
£2.75
04/04/85
James, The Smiths
Hippodrome
£5.00
10/05/85
Harpoons, The Long March
Cabot Club
£1.00
May-85
Dr Feelgood
Underground
£3.00
29/05/85
Shattered Silence, The Long March
Old Profanity
£1.00
05/06/85
The Joeys
Forum Cinema
£3.00
20/21/06/85
Roger Chapman, Ya-gas, Steel Pulse, The Pogues, Boomtown Rats
Glastonbury
£16.00
24/06/85
The Opposition, New Model Army
Bierkeller
£3.00
08/07/85
Circus Circus Circus, The Sound, Midnight Oil
Hammersmith Palais
n/k
25/07/85
Pride, The Long March
Old Profanity
£1.50